The
Level Editor
 is a feature where players can choose to test things out on their own or invite a friend to join in. Once you've completed your masterpiece you can upload it to the Level Lobby. This is where
all
uploaded playlists can be downloaded, played, and rated by others.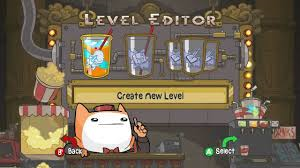 Controls
Use the "A" button to place a block.
Use the "B" button to erase a block.
The Right Trigger allows you to select anything you'd like to place.
The Left Trigger allows you to change any properties whenever you want! (play mode, time, colors, etc.)
Two-player
Allows a second controller to join and edit!
No waiting for each other during editing – just go go go!
Testing
You can play the level that you're building at any time — and pop back into editing just as fast!
You can instantly turn that Strawberry level into an Arena level and back again!
Try Arena modes against AI characters instantly to test it out.