The
The Vault
is one of the 8
Chapters
a player can play in the game
BattleBlock Theater
. Unlike other chapters, it has a unique background and more levels. It is the last chapter in the game. During the chapters finale you go run through the vault with a spotlight on you and the the music Mr. Finale playing. After the finale you proceed to rescue hatty and escape on the SS friendship.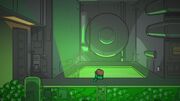 "The cats aren't going to like this"
This article is a stub. Please help the BattleBlock Theater Wiki by expanding it.
Thank you!